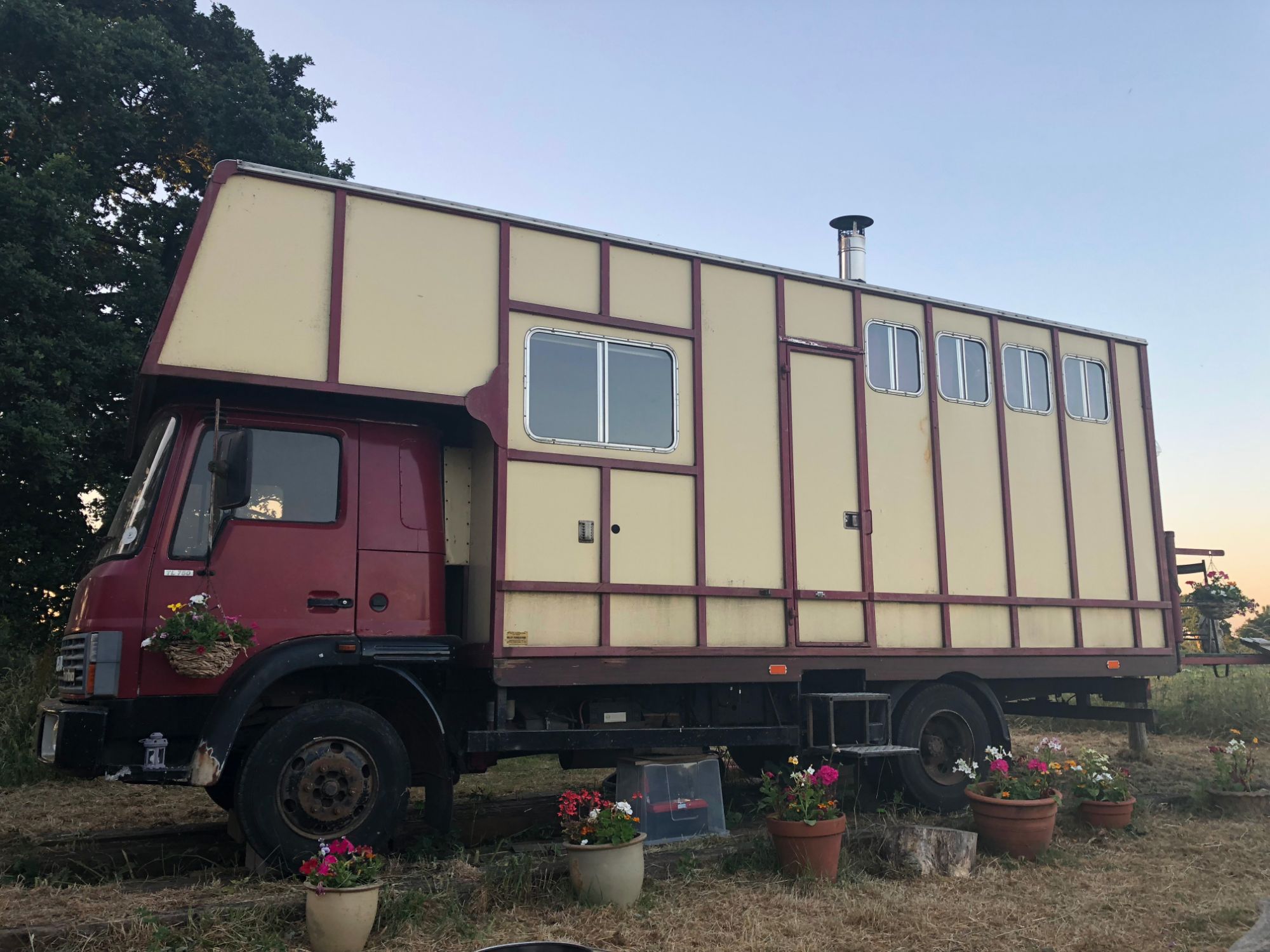 Welcome Information
Hi and welcome to the Homely Horse box! We are really happy you have chosen to stay with us and hope you have a really great holiday!
This document is full of helpful information about the horse box. We've included things like how to work the wood burner, health and safety information, and where everything you need can be found. We want to ensure your stay is as carefree and easy as possible, so if there are any questions you might have please come and knock on our door (white arched door on side of house called East Wing) or give us a ring on 07870 869077 or 01305 853479 or contact Mandy our Airbnb Manager on 07519 074440.
Where to find everything:
Spare bedding and blankets - under the sofa bed.
Towels - in the brown bench.
Candles and candle holders - (please always use the candle holders!) in small drawer on top of the kitchen worktop
Cutlery – right drawer in the kitchen
Cleaning products - bin bags etc. under sink
mop and sweeping brush – left of back door
Torches - hanging to the left of back door
Batteries/ bathroom stuff - in mirrored cabinet
Firelighters /Matches- in wood basket
Tea, coffee and sugar - on kitchen shelf
Spare pillows - under sofa bed
Games and toys - in glass cabinet above sofa bed
Cool box - under cooker
Pots and pans and plates - in kitchen cupboard
More sawdust for the loo in black bin behind toilet
Extra toilet paper - in large plastic tub behind toilet
Electricity:
The horseback runs on solar electricity with two solar panels on the roof. Inside the bus there are lots of led lights. A strip light in the kitchen one two main lights by each door and fairy lights that plug into the inverter on top shelf next to top bed. There are also 2 USB sockets by the lounge cabinet. These can be used for charging phones, laptops or other electronic devices. There is also one normal 240v 3-pin plug socket in the inverter. To use flick the switch and the green light goes on. Please turn off after use.
Utilities:
Water tap – by washing up area to the right of the toilet
Wood store – behind wall in courtyard (first basket is free, £5 after)
Bins and recycling – behind horse box (Green bin recycling and black bin rubbish)
Compost. Only non cooked food please by the entrance to the adventure playground
Wifi:
You will find a wifi network is sometimes available in the horse box. It is definitely usable at various points around our garden. You can get a good signal by the house. If you have important work and the signal is not working let us know and we can find a quiet place for you to work.
Garden:
We are very happy for you to use our garden and all the fun things in it. We take care to make the garden safe, but please understand that you use any item at your own risk. We recommend you don't leave your children unattended.
We share the garden with 2 other families (we are all really friendly so feel free to come and say hi!)
Fire pit:
You have your own fire bowl next to the bus. You can also use the big fire pits in the main garden. Please message us to find out which wood to use.
The trampoline
We are very happy for you to use this however there is a strict weight limit (4 children max of 5 stone or less) or 1 adult 2 children, or 2 adults only.
The treehouse and climbing nets
these are great fun to play on. Please be careful and safe while climbing to reduce the rick of accident.
The adventure playground
With wobbly bridge and balance beams. Please supervise your children when using this area.
Veg Patch
We have lots of lovely vegetables growing in the garden and if you are green fingered and have a love of gardening please feel free to help out with a bit of weeding/watering.
Shower Hut:
The shower is easy - simply twist the chrome switch just below the shower head, left to right to turn the shower on. Please don't use the back switch on the shower head as it's quite stiff. The 2 dials on the shower unit can be adjusted to get the temperature right, and water flow. There is an LED light in the shower for night use.
Compost Loo:
Using the compost loo is very simple. Please only use while sitting down (no stand up wee's please) Please put 2 scoops of sawdust in with each poo. The black plastic thing at the front of the seat is a urine separator, and it's important to be careful not to block it with loo roll or saw dust.
Fridge:
There is a fridge in the garage in the courtyard. The key to access this is hanging up to the left of the back door. you also have access to a small cool box and freezer packs in the horsebox itself.
Fire safety:
In the Horse box there is a fire extinguisher by the back door and fire blanket hanging by the cooker. There are two doors to use as a fire escape, Please be responsible with any naked flames in the bus and always use the candle holders provided for any candles used in the bus. There is a smoke alarm and carbon monoxide alarm in the bus.
Smoking:
This is a no smoking accommodation so please respect this and smoke outside. Please do not drop cigarette butts on the ground but put them in the fire bowl provided.
Log burning stove:
The wood burner on the horse box will keep you toasty and warm on even the coldest day. There is a vent on the door, which you open and close by twisting. Opening the vent makes the fire burn hotter, closing it will make the fire last longer (for example when you go to sleep)
We provide you with firelighters to get the fire started. You only need 1 or 2 firelighters to get the fire started with a couple of logs on the top. These can be found in the wood basket.
First basket of logs is free then £5 per sack. Sacks of logs can be found in the woodshed near the horsebox.
Noise:
The courtyard is a quiet zone at all times, and we ask that there be no noise in the garden after 9pm as we have young children sleeping at that time. You are welcome to use the garden after 9pm, but just no shouting kids etc. We also have a general noise curfew of 11pm.
Shops:
The nearest shop is the Co-op at Crossways (5 minute drive) which is open until 10pm every day. To reach the Co-op turn right out of our private drive and follow the road all the way to the T-junction. Turn left at the t-junction and you will see the co-op 100m up the road on your right.
At the top of Owermoigne there is Kate's farm shop, and a Texaco garage.
Directions to the farm shop and garage. Turn left out of our private drive and follow the road all the way through the village until you reach to the T-junction at the main road. Turn left at the t-junction and you will see the farm shop and garage 100m up the road on your left.
Galton garden centre is another 100m up the road on the right past the garage and farm shop. It has a cafe that does cooked breakfasts and cream teas, lovely lunches. It also has a small soft play area for children.
Etiquette
Please be quiet at all times in the parking/courtyard area as our parents live in the main part of the house and don't like to be disturbed.
In our garden there is a noise curfew of 8pm (we have babies sleeping in the house nearby).
At the horse box please keep noise to a minimum after 11pm. Thank you.
Please treat the horse box with respect. No smoking inside and please leave it in the same condition as you found it. We do all the cleaning ourselves so it is really helpful if you could tidy up after yourself!
Small Children
We do have a high chair that connects to the table and a travel cot for you to use. Please just let us know if there is anything else you specifically need to make your stay with small children a little easier.
ADDED EXTRAS AVAILABLE FOR YOUR STAY
We offer a wide selection of extra options to include during your stay. If you would like to include any of these extras on your holiday with us, please contact us and book them in advance so we can prepare them ready for when you arrive.
PRACTICAL EXTRAS
1.Extra baskets of logs £5 (1 free when you arrive)
2.Collection from Moreton train station £5 each way
3.Extra family members camping £10 per person per night
4. 2nd car parking fee £5 per night
5. Laundry is £5 per wash and dry.
ENTERTAINMENT/EDUCATIONAL EXTRAS
1.Drum Kit Lessons £35 per hour or more information click here
2.African Hand Drum Lessons £35 per hour or more information click here
3.Hammered Dulcimer Lessons £35 per hour, or 5 hours for £100 for more information click
4.Group Drum Circle/Workshop £200 for 1 hour, fun group drumming workshop for all ages for more info click
5.Meditation lessons: Ralph Cree has been meditating since 1996. He can do 1 on 1 tuition, or group tuition. £35 for one hour lesson.
6.Body-weight strength training: using your own body-weight to workout is great fun! You can use no equipment at all, or use pull-up bars, gym rings, climbing ropes etc. £35 for an hour lesson.
7.Private concert with Hang, Kora and hammered Dulcimer £150 per concert.
8.One to one side drawing or landscape painting class £35 per hour plus materials
Places of interest.
Beaches
Ringstead - Quiet and peaceful beach with a small cafe and shop. https://www.nationaltrust.org.uk/ringstead-bay
Directions, 5 miles (8km) east of Weymouth with access from A353 through Upton village. Parking: Car park (National Trust, SY757825) at the top of the cliff above Southdown Farm. Parking is 50p per hour (free for members with a car sticker). There is a second car park by the beach (not National Trust).SatNav: Nearest postcode DT2 8NQ
Lulworth Cove - Famous and beautiful Dorset fishing village, with quaint shops and spectacular coastal scenery. Durdle Door - One fo the most photographed beaches in the world! Quite hilly, but worth the walk. https://www.lulworth.com/visit/places-to-visit/lulworth-cove/
Set SATNAV postcode to BH20 5RQ for Lulworth Cove, West Lulworth, Wareham, Dorset
West Bay - Featured in the popular ITV series 'Broadchurch'. Stunning, sandy cliffs and some lovely pubs.Weymouth - Great for a family day out. Large, flat and sandy beach, fairground, great shops and fish and chips! Situated at the western end of Chesil Beach and forming part of the World Heritage Jurassic Coastline, West Bay offers two unspoilt beaches either side of its quaint fishing harbour. The historic market town of Bridport is less than two miles away, offering supermarkets, shops, medical centre, hospital and leisure centre. Bridport also holds twice weekly open air markets, including a popular antiques market and a monthly organic market. Lyme Regis, Dorchester, Abbotsbury Swannery and Charmouth are all a short distance away. https://www.westbay.co.uk/
Chesil beach - bird watching paradise! www.chesilbeach.org Chesil Beach Visitors Centre Contact Information .Chesil Beach Visitors Centre, Portland Beach Road, Portland, Dorset, DT4 9XE, By phone: 01305 206191
Towns
Swanage - Picturesque town on the sea. Swanage is located at the eastern end of the Jurassic Coast, a 95 mile stretch of outstanding geology in between Dorset and East Devon which is a World Heritage Site. Ride the heritage railway with the 6 mile long line which joins Swanage, Herston Halt, Harmans Cross, Corfe Castle and Nordon Park & Ride, the railway follows the route of the old Purbeck line. https://www.visit-dorset.com/explore/towns/swanage
Dorchester - Historic county town. Dorchester is a vibrant town for sightseeing and shopping but also a fantastic centre for visiting the area! Visit Dorchester's museums and shops, walk the walks, drink great coffee, eat great food and take trips to the Jurassic coast. www.dorchesterdorset.com/
Weymouth - Fun for all the family. Good for shopping.Bridport - Great for Arts and Bohemian eateries. Looking for a holiday by the sea with beautiful scenery, activities and events to suit every age? Look no further, Weymouth is the perfect holiday destination! With beautiful golden sands sprinkled with deckchairs, safe shallow waters, action packed events programme and pretty harbour-side you certainly won't be disappointed! Weymouth Beach is consistently recognised as one of the top ten beach destination in Europe and it's easy to see why! So why not grab your towel, a good book and head to Weymouth beach this summer!https://www.visit-dorset.com/explore/towns/weymouth
Poole - Modern harbour town, with Poole Pottery, and the largest natural harbour in the world. WELCOME TO POOLE Located on the beautiful South Coast of England, in the historic county of Dorset and close to the World Heritage Jurassic Coast, Poole is ready to offer a year-round experience like no other!
Poole's natural harbour is the largest in Europe, making it a haven for sailors, wildlife, water sports and boat chartering. Grab your binoculars as Poole Harbour is recognised as an internationally important home for wetland wildlife.
Known as the 'coast with most', there are acres of space to enjoy outdoor pursuits or mess about on the water. Enjoy leisurely walks and runs along our sandy beaches. www.pooletourism.com/
Wareham - Quaint, medieval walled town. Want to escape the hustle and bustle of daily life? Then the pretty, riverside town of Wareham is just the place you're looking for. Explore the town's 2000 years of history, enjoy a delicious meal at one of the eateries, browse the interesting and unique shops or go for a walk and surround yourself with rolling hills and beautiful views.
Wareham is one of the few remaining Saxon walled towns in England. Take a walk around the Walls to find out about Viking attacks, civil war skirmishes and gruesome executions!. Wareham Town Museum is a great place to discover local history and learn about the town's connections with T.E. Lawrence (Lawrence of Arabia). The towns quay is a lively meeting place and is host to many events and activities, plus a weekly market. Why not hire a boat, have a picnic, cruise down the river on a paddle steamer or just sit and watch the river flow by?
Portland - a whole island to discover! Looking to visit a part of Dorset that's a bit wild yet wonderful? Then make sure you visit Portland. Portland is a part of Dorset like no other, in fact it's a complete contrast; wild, rugged and harsh but in its own way absolutely beautiful.
Portland is thought of as an island although this isn't wholly correct in the true sense of the word as it's reached over a causeway from Chesil Beach. Just 4 miles long by a mile and a half wide at its broadest point, this plate of Jurassic limestone is tilted from north to south. This means that if you are on the elevated northern side of the island you are rewarded with stunning views across the Chesil, Portland Harbour & Weymouth.
An Explorers' Island
Portland is an explorers' island; rock climbing, abseiling, diving, kayaking and walking for the sporty and museums, castles, lighthouses and sculptures for those looking to discover a bit of history and heritage…and all on a tiny island!
Quarrying still continues on the island although Tout Quarry is now disused but has become a sculpture park. Take a walk around the site and discover more than 70 sculptures that have been skilfully carved into the rock face and Portland Stone boulders whilst enjoying some wonderful views.
Portland boasts 3 lighthouses, one of which is still working. After climbing up Portland Bill you can marvel at the views, however, if you decide against going up the lighthouse, there's still plenty to see from Portland's craggy rocks. The views of the channel are great…peer out to sea and get a real sense of watery wilderness.With so much to explore, you'll have a fantastic break in Portland! https://www.visit-dorset.com/explore/towns/portland
Manor Houses, Castles and Monuments
Corfe Castle - Brooding ruin in a stunning location between two giant ridgeways. https://corfe-castle.co.uk/ The Square, Corfe Castle, Wareham, Dorset, BH20 5EZ 01929481294
Kingston Lacey - Grand mansion, with lush gardens. https://www.nationaltrust.org.uk/kingston-lacy Wimborne Minster, Dorset, BH21 4EA Wimborne Minster, Dorset, BH21 4EA
St Catherine's Chapel Abbotsbury. Standing on top of a hill amazing views of dorset coast! www.britainexpress.com/counties/dorset/Abbotsbury-Chapel.htm Chapel Hill, Abbotsbury, Weymouth, Dorset, DT3 4JH FREE
Brownsea Island - In the middle of Poole Harbour, and home to all 3 species of British snake, Peacocks and Red Squirrels. https://www.nationaltrust.org.uk/brownsea-island Poole Harbour, Poole, Dorset, BH13 7EE 01202707744
Hardye's Cottage - Home to Thomas Hardye, the famous poet and novelist. https://www.nationaltrust.org.uk/hardys-cottage Higher Bockhampton, near Dorchester, Dorset, DT2 8QJ 01305262366
Maiden Castle - Giant, well-preserved Iron-Age fort, with stunning views of Dorchester town. www.english-heritage.org.uk/visit/places/maiden-castle/Winterborne Monkton, Dorchester, Dorset, DT2 9EY FREE
Museums
Tank Museum - Huge range of historic military vehicles. The Tank Museum, Linsay Road, Bovington, Dorset BH20 6JG [email protected] https://www.tankmuseum.org/home 01929 405096 |
Dinosaur Museum - Quite small, and aimed at young children. https://www.thedinosaurmuseum.com/ Icen Way, Dorchester, Dorset DT1 1EW Telephone: 01305 269880
Teddy Bear Museum - Again, quite small, and popular with young children. https://www.teddybearmuseum.co.uk/ Eastgate, corner of High East St. & Salisbury St, Dorchester Dorset DT1 1JU 01305 2660401
Tutenkamum Museum - Small but Interesting museum about the famous Egyptian Pharaoh. https://www.tutankhamun-exhibition.co.uk/ The Tutankhamen Exhibition High West Street, Dorchester, Dorset DT11UW (01305) 269 571
Military Museum - Housed in the historic Keep in Dorchester. www.keepmilitarymuseum.org/ The Keep Military Museum. Barrack Road, Dorchester, Dorset, DT1 1RN (01305) 264066
Dorset County Museum - Lots of interesting exhibits relating to the county of Dorset. www.dorsetcountymuseum.org/Dorset County Museum Offices, The Old Warehouse, 31a Durngate Street, Dorchester, Dorset, DT1 1JP, 01305 262735
Pubs and Restaurants
Smuggler's Inn - Osmington mills https://www.smugglersinnosmingtonmills.co.uk/Osmington Mills, Weymouth, Dorset, DT3 6HF, United Kingdom Tel: 01305 833125
The Handmade Pie & Ale House (Weymouth) Proper pies and Ale close to the sea front http://www.thehandmadepieandalehouse.com/ 2 Queen Street, Weymouth, Dorset DT4 7HZ 01305 459342
Square and Compass - Worth Matravers. Very traditional, and quirky, with a fossil museum (our favourite!) www.squareandcompasspub.co.uk/ The Square and Compass, Worth Matravers, Swanage, Dorset, BH193LF tel: 01929 439229
Yarlbury Cottage - Fine dining in a homely setting. www.yalburycottage.com/ Lower bockhampton, dorchester, dorset, DT2 8PZ (01305) 262 382
Beach and Bardicott - Unusual and delicious food in Bridport. Beach & Barnicott,6 South Street, Bridport, Dorset, DT6 3NQ https://www.beachandbarnicott.com/
The Countryman inn - 5 minutes drive with great food Sunday roasts and children play area. The Countryman Inn, East Knighton, Dorchester DT2 8LL. 01305 852666 http://www.thecountrymaninndorset.com/index.html
The Ship Inn - Also only 5 minutes away! Wool, Dorset, BH20 6EQ (01929) 462247 http://shipwool.co.uk/
Owermoigne Cricket Club - Small social club in our village hall. It costs £10 to join then you get cheap drinks! Within walking distance! Owermoigne Cricket & Social Club, Pollards Lane, Owermoigne, Dorchester, Dorset, DT2 8XD (07756) 305183 http://www.owermoignecc.co.uk/
Owermoigne cricket club opening times - Opening times Monday: CLOSED, Tuesday: 8.30 - 10.30pm, Wednesday: 6.30 - 10.00pm, Thursday: 5.00 - 9.00pm, Friday: 5.00 - 11.00pm, Saturday: 6.00 - 11.00pm, Sunday: Noon - 3.00pm
Walks and Woodlands
Arne Nature Reserve - run by the RSBP so fantastic place for bird watching. over looks pool harbour. RSPB Arne, Arne Rd, Wareham BH20 5BJ, UK https://www.rspb.org.uk/reserves-and-events/reserves-a-z/arne/
Moreton walled garden - Moreton river great for paddling, dog walks with Moreton award winning tea rooms right next door www.walledgardenmoreton.co.uk/ The Walled Garden, Moreton, Dorchester, Dorset, DT2 8RG 01929 462243
Coastal path walk - Goes all the way round the UK https://www.southwestcoastpath.org.uk/
Other great places to visit
Monkey world - money sanctuary run by charity! massive play parks and soft play www.monkeyworld.org/ MONKEY WORLD, LONGTHORNS, WAREHAM, DORSET. BH20 6HH. UNITED KINGDOM
Tel: +44 (0) 1929 462537
Weymouth Sealife Centre - see all kinds of sea life and learn about how to protect our oceans.https://www.visitsealife.com/weymouth/ SEA LIFE Adventure Park Lodmoor Country Park, DT4 7SX
Abbotsbury children farm - fantastic day out for animal lovers. Huge indoor play space so good for wet weather days. abbotsbury-tourism.co.uk/childrens_farm/ Abbotsbury Children's Farm, Church Street, Abbotsbury, nr Weymouth, Dorset, DT3 4JJ (01305) 871130
Abbotsbury tropical gardens - amazing tropical landscaped gardens that are illuminated at night during October https://abbotsbury-tourism.co.uk/gardens/ABBOTSBURY SUBTROPICAL GARDENS,BULLER'S WAY, ABBOTSBURY,
NR WEYMOUTH, DORSET, DT3 4LA GARDENS DIRECT: 01305 871387
Abbotsbury Swannery - watch baby swans hatching! https://abbotsbury-tourism.co.uk/swannery/ New Barn Road, Abbotsbury, nr Weymouth, Dorset, DT3 4JG. (01305) 871130
IMPORTANT NUMBERS
Nearest Local hospital
Dorset County Hospital
Williams Avenue
Dorchester
Dorset
DT1 2JY
Enquiries: 01305 251150
Weymouth Urgent Treatment Centre, - Walk in Clinic open 8:00am-8:00pm 7 days a week - 3 Melcombe Avenue, Weymouth, DT4 7TB
National Health Service advice line - If you need health advice. please call 111
Emergency services, fire, ambulance, coast Guard, police in an emergency please call 999
Travel
Local taxi services - booking in advance essential!
Jurassic Cabs - 01929 558119
Durdle Door cabs - Durdle Door Cabs are your number one choice for taxis in Durdle Door, Lulworth Cove, Wool, Bovington, East & West Lulworth and surrounding areas! 01929 444546 https://www.durdledoorcabs.com.
Day Bike hire - Jurassic trails Cycle hire 01305 836428/835301
Bowleaze coveway, Weymouth DT3 6RY https://www.jurassictrailscyclehire.co.uk/hireabike.html
Longer Bike Hire - Weymouth Bike hire 07548 254 634 http://www.weymouthbikehire.co.uk/
Kayak hire - Single and double kayaks from 30 mins for full day hire-
Wareham Abbots Quay, Wareham, Dorset BH20 4LW | Phone: 01929 550688 Email: [email protected] http://www.warehamboathire.co.uk/kayak-hire-dorset/
Bus Times to Poole and Weymouth (7th April - 19th may 2019)
Both These stops are situated at the far end of the village on the main road.
X54 bus to poole from Owermoigne Kit lane
08:13
10:24
12:54
17:04
X54 bus to weymouth from Owermoigne Gallows Hill
11:11
13:51
15:51
20:01
This is a list of the main stops available on this bus
Weymouth
Preston
Osmington
Owermoigne
Winfrith newburg
West lulworth Durdle Door carpark
Lulworth Cove
Wool
Wareham
Sandford
Upton
Hamworthy
Poole
Train Times Moreton Station.
The closest train station is Moreton, which is a 1 hour walk or we can take you to the station for £5 each way. Directions to the station. Turn right out of our private drive and follow the road all the way to the T junction. Turn right at the junction and the station is about 300m up on the left. (you will drive over the railway lines to get to the carpark).
The train that goes through Moreton is from Weymouth to London Waterloo
The stations towards Weymouth leave at 41 minutes past the hour every hour.
These are the stations in the correct order
Trains to Weymouth
Dorchester South
Upwey
Weymouth
The stations towards London Waterloo leave at 39 minutes past the hour every hour. These are the stations in the correct order
Trains to Waterloo London
Wool
Wareham
Holton Heath
ham worthy
Poole
Bournemouth
Pokesdown
Christchurch
New Milton
Brockenhurst
Southhampton Central
Southhampton Airport parkway
Winchester
Basingstoke
Clapham Junction
London Waterloo
PLEASE CHECK ONLINE TRAIN TIME TABLE FOR ACCURATE TRAIN TIMES
https://www.thetrainline.com
Contact Details during your stay!
If you need anything please knock on our door, which is the white arched door by the entrance to the play garden.
Otherwise please ring or text 07870 869077 or 01305 853479
If you cant get us Mandy our Airbnb manager can be contacted 07519 074440
As a last resort you can walk up the track to the woods and speak to Rob or Kim who live in the yurt and they will be able to help you!
We really hope you enjoy your stay and if there is anything you need please just let us know!
Happy holidays!!
x The Crees
P.S If you've enjoyed your stay, please leave us a positive review on AirBnB as this helps our business to grow and lets other people know how much fun it is to stay on the Homely Horse box!
www.moignescourt.co.uk
Moignes Court
Moreton Rd
Owermoigne
Dorset
DT2 9HY