1st and 2nd November 2018
Posted on
1st November. A special home ed day with Ocean
Ralph working today around Moines court while Ocean and I made a plan for this half term of Moignes Court Creative school. The plan is as follows:
BENDER BUILDING
Build a bender in the woods from hazel poles and tarpaulins

Put a cosy bed a burner in it

3 build a fire pit

Cook bonfire cake togged

Sleep in the bender overnight

Make a documentary of the process as we go for the blog!
What a great project!
We then went walking in the woods to find a good spot for our bender. We found a few good options. Cruised past the owls paradise tree on the way back and decided to climb up.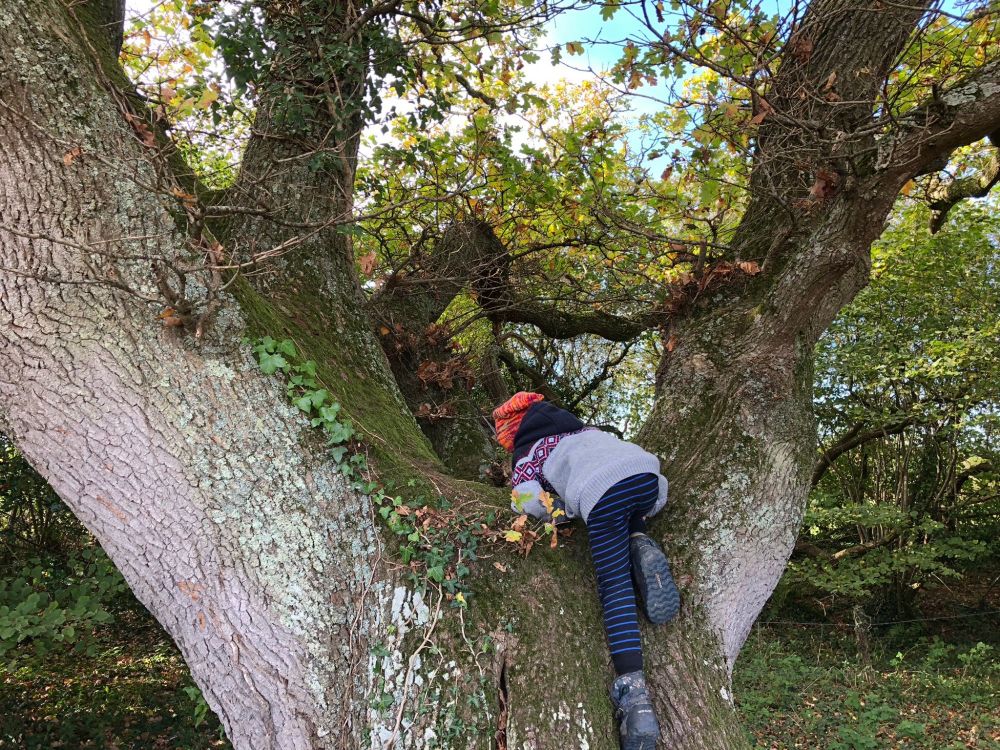 While sitting in the tree we made made this little video. Ocean mixed his words and used inset instead of interest so please excuse him! Lol
I had an epic idea about how to get funding to build a tree house these buy getting people to pay in advance to stay in it! I think I could get 100 people to pay £100 then we would have a £10,000 budget!
Got back and chilled together playing lego starwars on the iPad
3:00 we both got in the car to pick up solar from preschool. He was so animated when we collected him. "mymmy I panted these for you!!!" Big hugs I love Solar Hugs!
Off to the garden centre soft play. Yummy Milkshake with minty shortbread biscuits. Looked at the fish in the aquarium shop. Boys we really fun and good so bought them a little blind bag.
Back home for 5:00 I made cauliflower cheese we all ate together yummy boys to bed easily!
9:00 ralph went off to bed I checked my emails and found masterworks may be interested in helping me play a dulciforte dulcimer! Spent until 1:00am writing them a letter about my plans and hoping they will send me a dulcimer!
2nd November
9:00 till 10:30 Ralph got up with the boys as per normal and I went back to sleep tired because. Didn't go to bed till 1:00am as I was writing a letter to masterworks. Ralph took the boys off at to corfe castle they spent the day making an epic futuristic fight film with special effects! Heres the finished film
10:30 till 12:00 Met Jennys parents and gave them a tour of Moines court
Jenny arrived at 10:30ish while I was still in my onesie. I got dressed and we all made a cup of tea to take with us round the gardens. We walked to the secret garden, bus, horse box, up to the new yurt spot by bluebell woods. Its always lovely to spent time with Jenny and lovely to see her parents. They invited us to stay in Germany with them any time! I offered the same x
12:00 - 4:00pm Jenny and co left at about 12:00 so I went into work mode. I took phots of all the things Im selling on ebay. The goal is to raise £1000 before Christmas to go towards the yurts and or woodland roundhouse. I also tidied the whole court room so its ready for ann and martins guests tomorrow.
4:00 - 5:00 Then I sat with Amanda and had a talk about visualisation. Im trying to help her get a plan for her next step. I have a new sense of confidence and feel less nervous about dealing with social difficulties since doing the 21 day upgraded life challenge. I can really feel a shift in my visualisation skills. Im also being grown to want to mediate and do tai chi so I will incorporate those things into my life in 2019.
4:00-6:00 boys home! Lovely play together then amyy brown enid and Aubrey turned up! Yay I set up Moignes court Friday films first film of the year! Watched CoCo day of the dead. Cried my eyes out!
Solar super over tired at bedtime steamed his head off before going to sleep.
Chilling now ralph is playing the Kora and Im writing my first ever real days blog post.Go Me!!!
Mission for tomorrow. Take phots for the blog. Document everything that is happening with video and photos.