magic bus holidays
Here at Moignes Court we have a very special magic bus! Its is permanently parked in its own private garden and is available for rent for a family of 5 people! We really hope you decide to come and stay here on you special holiday! We are only 10 Minutes drive from the famous beaches of Durdle Door and Lulworth Cove and only 15 mins drive from the seaside town of Weymouth. There are loads of places to visit nearby.


During your visit you are welcome to share our private garden, which has a climbing net, tree house, firepit trampoline and a cob pizza oven. We are very friendly and ready to help you with anything you need during your visit. We have two friendly Dogs that live here too. Lucky the Rottweiler and Jeff the terrier! they are very friendly and you are very welcome to bring your pets with you when you visit us as we know how they are part of the family and want to come on holiday too!
To rent the Magic Bus in 2015 it costs £85.00 per night. (this is for up to 5 people 1 double bed, 1 single and 2 bunk beds (the bunk beds are 5ft 4in in length).
However we have a special discounted rate of £75 per night for bookings made before May 1st 2015!!£75 per night works out at only £17 per person if all 5 beds are in use!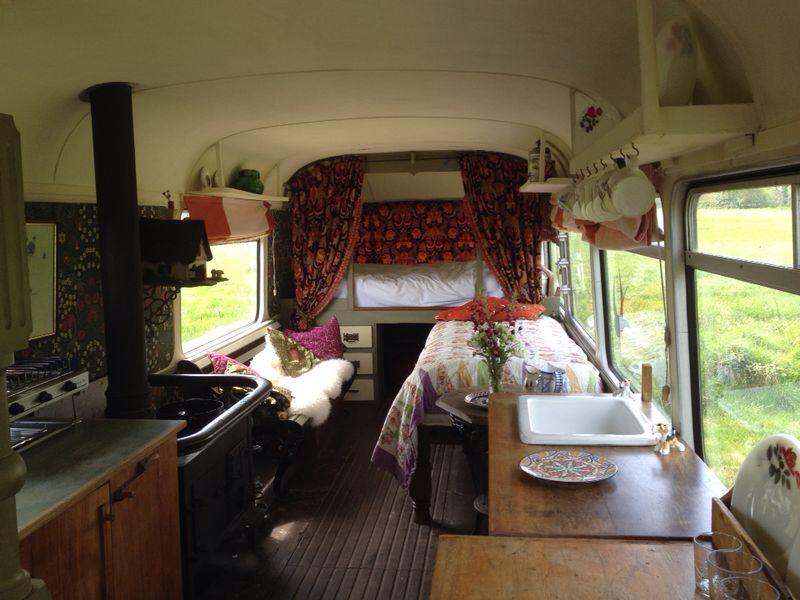 MORE GREAT NEWS....
IF YOU STAY FOR 3 NIGHTS OR MORE THE PRICE GOES DOWN BY 5% to £71.25

IF YOU STAY FOR OVER 7 NIGHTS THE PRICE GOES DOWN BY 10% to £67.50

If you have more guests than the 5 that can sleep in the bus you are are welcome to invite you extra guests to stay in tents in our private garden. Each extra person camping will be charged £5 per person per night.
We have free parking spaces for 2 cars. If you intend to bring more than 2 cars there is a fee of £5 per night for parking.
Visit the Magic Bus website at WWW.MAGICBUSHOLIDAYS.CO.UK
or alternatively visit our AirBnB page by clicking HERE
or by visiting https://www.airbnb.co.uk/rooms/3075124